In the Land of the Wyeths
By LINDA McK. STEWART
ART TIMES Aug, 2003

A hundred years ago Hoffman's Grist Mill, on the banks of the Brandywine, was one of the most profitable mills on the river's course. In 1971 the mill took on a second life as the Brandywine River Museum. Its conversion from mill to museum was an architectural triumph. Floor to ceiling windows overlook the river. Stone floors and plain white plaster walls provide ideal exposition space. The museum houses major works by three generations of the Wyeth family — Newell Convers (or N.C.) Wyeth, Andrew and Jamie. NC endeared himself to generations of young readers with his evocative book illustrations. His first illustrations for R.L.Stevenson's Treasure Island were done in 1911. It was the beginning of a long and lucrative career. Many still recall with pleasure those handsome, chunky, black-bound volumes, the Scribner Classics, with the gold lettering on the spine. After Treasure Island came The Last of the Mohicans, Robin Hood, Kidnapped, King Arthur, and many more. The original paintings for those illustrations, along with several works by NC's mentor, Howard Pyle, are found in the uppermost gallery of the museum. Works that include both portraits and landscapes, by son Andrew and grandson Jamie, are found on the two lower levels.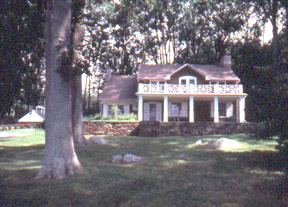 N.C.Wyeth House, Chadds Ford, PA
Born in Massachusetts, NC came to the area as a young art student. It was love at first sight. With the proceeds of his 1911 sale for Treasure Island, he bought 18 acres of hillside and woodlands, scarcely a mile from the museum that now houses his paintings. There he built a house and a studio. There he and his wife Carolyn raised five artistically gifted children. After his death in 1945 his widow lived on in the house and after her death in 1973, their daughter Carolyn, continued living in the house and painting in the studio until she died in 1994.
The Brandywine River Museum was designed for public access. The family homestead was not. But in 1996 arrangements were made whereby museum visitors could visit both the house and the studio in small, escorted groups. Because cars are not permitted at the homestead, museum visitors are transported by shuttle van and escorted first through the ground floor of the house and then through the studio.
In the so-called Big Room, it's immediately apparent that this is the hub of family life. Light pours in through uncurtained windows. It's a country room, a happy room, filled with family photographs, well-thumbed books, paintings, a piano and a bust of Beethoven, an apt reminder that daughter Ann was a composer as well as an artist. Life in the Wyeth household was never dull. No father was ever more involved or devoted to his children than NC. Andrew, reminiscing about his father, delighted to recall the rituals of Christmas. Long after Santa Claus had been defrocked, NC would clamber across the roof on Christmas Eve, stomping in heavy boots, jingling sleigh bells and calling his Ho Ho Ho's down the chimney. Charades and skits were family specialties. As soon as a child could hold a crayon, he or she was given workspace and encouraged to draw "whatever you see around you." Household pets included not just dogs and cats but rabbits, ducks, ponies and birds, both domestic and wild. In the Wyeth household, self-expression was always valued above school on the theory that the children could learn as much in their father's studio as they could in a classroom.
The studio with a huge north-facing window has been returned to its 1945 appearance, the year that NC and a grandson were tragically killed on a nearby railroad crossing. Propped on an easel is an unfinished portrait of George Washington as a young surveyor. It was the artist's final work, its completion halted by his death. Everywhere in the spacious room are the artist's props...a birchbark canoe, a sword, seashells, old glass bottles, capes and plumed hats, a plaster cast of Lincoln's death mask. There's a staircase on rollers, which the artist used when working on murals and other oversize pieces.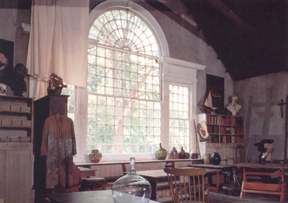 Interior of the N.C.Wyeth Studio, Chadds Ford, PA
(Photos Courtesy the Brandywine Museum)
The studio is wonderful workspace — vibrant, energetic, imaginative space. A tour of the house and the studio provides the perfect complement to any visit to the Brandywine River Museum. Lovers of Wyeth art are indebted to the trustees of the museum for providing us with this close-up of this creative family's life.
IF YOU GO: Admission to the Brandywine River Museum is $5 for adults; $2.50 senior citizens; students with I.D. and children 6-12 free. Tour of the Wyeth homestead and studio is an additional $3 per person, shuttle service included. For additional information call 610-388-2700.
(Linda McK. Stewart, a free lance travel writer from Rumson, NJ, has had articles appearing in more than 60 metropolitan newspapers in Canada and the U.S.)