In Britain 2003 is a significant year for artists' solo shows, from the luxuriant sixteenth century masterpieces of Titian, to the high modernism of Barbara Hepworth. This is a year which celebrates the diversity of art world heavyweights, and will be remembered for presenting the work of a range of practitioners who, in their contribution to the evolution of art history, have all shaped the way we perceive the world. This offering is an overview of the highlights, many of which have involved extensive collaboration with the United States. This survey is by no means exhaustive as the choice is endless, but it will present a selection intended to stimulate the senses of any prospective art traveller to Britain in 2003.
Of course the great Titian hardly needs an introduction. Royalty throughout Europe competed for his skills and his reputation and creative development were meteoric, as was his influence on future generations of artists. The first major exhibition in Britain to be devoted to his work is at the National Gallery, London (until 18 May). Here the sensuality and luminosity of the works on display offers a visual feast of epic proportions. Some of his most celebrated paintings have left their homes to make the journey to the London show; Flora from Florence, Danae from Naples, Clarissa Strozzi from Berlin and perhaps most significantly, The Worship of Venus from the Prado Museum, Madrid, commissioned by Alfonso d'Este for his alabaster camerino.
While some artists such as Titian imbue authority, others present a more intimate portrayal of equally significant mythological themes. Giorgio De Chirico was one of the most enigmatic painters of the twentieth century, whose work can be seen at the Estorick Collection, London (until 13 April). De Chirico¹s hallucinatory paintings, showing deserted city streets with ancient buildings and statues casting their trademark shadows, influenced not only the Surrealists but also Andy Warhol, who became a close friend of the artist in the 1970s. This exhibition, which has come to London from the Philadelphia Museum of Art, Philadelphia, focuses on the Myth of Ariadne; a princess of Greek mythology, abandoned by her lover Theseus on the island of Naxos. De Chirico created a series of paintings in 1912-13 devoted to this melancholy subject, where Ariadne is seen as a haunted symbol of exile and loss. It has to be said that these early works are amongst his most potent, their stillness and loneliness leaving an imprint on the mind long after they have been seen.
The year 2003 is a particularly important one for centenary exhibitions, as at least seven notable British artists were all coincidentally born in 1903; Barbara Hepworth, John Piper, Graham Sutherland, Richard Eurich, Eric Ravilious, Ceri Richards and Edward Bawden. However, amongst the most significant artistic events of 2003 are the celebrations surrounding the centenary of the birth of Barbara Hepworth, without doubt one of Britain's most important twentieth century artists. Tate St Ives, Cornwall is staging a major exhibition of her work (24 May-12 October), which brings together pieces from collections all over the world. This is highly appropriate as Hepworth lived in St Ives from 1939 until her death in 1975. During the summer exhibitions, her work can also be seen in Wakefield, the North of England where she was born, at Wakefield Art Gallery (17 May-29 June) and the Yorkshire Sculpture Park (17 May-14 September).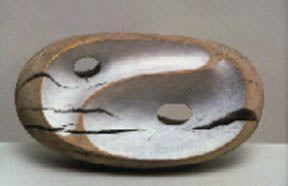 "Tides I" (Part-Painted Wood (Holly) 1946
by Barbara Hepworth
As a carver Hepworth's forms were dynamic, yet harmonious, particularly in the use of white marble to create pure abstract form. It was from the mid 1930s that she led the field in reducing sculpture to its fundamental characteristics, striking a remarkable interplay between the object¹s volume and the space surrounding it. Her work has the kind of poise one associates with the rhythmic movement of a dancer, or the curved tip of a wave rolling into shore. It did not take long for her brilliance to be recognised outside Britain; the Museum of Modern Art, New York acquired its first Hepworth sculpture as early as 1936, and in 1963 a 21 feet high bronze was commissioned for United Nations Secretariat, New York, as a memorial to the former Secretary-General, Dag Hammarskjold.
This year is also significant for photography exhibitions in Britain; the work of Julia Margaret Cameron and Bill Brandt are only two examples of a medium that is being seen more and more as an art form in itself, rather than documentary evidence. The photographs of Cameron can be seen at the National Portrait Gallery, London (until 26 May) and will tour to the National Museum of Photography, Film and Television, Bradford (27 June-14 September). The exhibition will then end at the J. Paul Getty Museum, Los Angeles (21 October-11 January 2004), where it coincides with the publication of the museum¹s catalogue raisonné of her work. Cameron photographed some of the most influential and celebrated figures of the nineteenth century, such as Charles Darwin, Robert Browning, Ellen Terry and Alfred Tennyson. She was heavily influenced by the paintings of the Pre-Raphaelites, which is highly apparent in the heightened theatricality and ethereal quality of many of her subjects; their rather soulful appearance steeped in Victorian sensibility and completely evocative of their time.
In contrast, Bill Brandt's images at the newly launched Focus Gallery, London (18 March-26 April) offer quite a different approach. He had worked as Man Ray's assistant in Paris before coming to London in the 1930s to become a photojournalist. Brandt was a portrayer of life, endlessly experimental in his approach, from his work as a photojournalist to his atmospheric landscapes, portraits of celebrated contemporaries and high contrast nudes, often distorted with a wide angle lens. Indeed, Brandt felt that photography, which was then still a relatively new medium, had no rules and for this reason he defies clear categorisation, which has to be seen as a definite asset. Brand was one of the pre-eminent photographers to have emerged in Britain and interest in him is transatlantic this year with a retrospective exhibition of his work at the Yale Centre for British Art, Connecticut (19 April-20 July).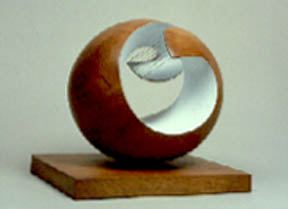 "Pelagos" (Part-Painted Wood and Strings) 1946
by Barbara Hepworth
Britain's first ever major exhibition of the work of Ernst Ludwig Kirchner will be on show at the Royal Academy, London (28 June-21 September), which will come to this venue from the National Gallery, Washington DC, where it can be seen until 1 June. Kirchner was one of the co-founders of the Die Brucke movement, which was the first manifestation of German Expressionism. However, this exhibition will focus on his paintings of 1905-15, which is considered to be his most innovative period. Kirchner's works are famous for their gothic angularity, where groups of parading, jagged figures are often compressed into city streets. Movement is restricted, perspective is distorted and there is a definite feeling of angst, which can clearly be related to his own rather tormented disposition. The paintings are a curious fusion of primitive concepts and urban sensibility, which creates a mood of extreme agitation, leaving you with an uncomfortable feeling of disquiet.
However, if Kirchner's work unnerves the senses, Bridget Riley creates total havoc. No artist in the realms of art history has enjoyed playing games with our eyes as much as Riley, and her work can be seen at Tate Britain, London (26 June-28 September). Here geometric lines sizzle and zip across the picture¹s surface, creating an optical illusion of momentous impact. However, Riley is an absolute master of her craft, as meticulously controlled geometry always prevents the work from spinning out of control. She was unquestionably one of the most inventive painters associated with the Op Art movement, which developed both in the United States and Europe in the mid 1960s. Riley has been at the forefront of developments in contemporary painting for over forty years and this exhibition will be a comprehensive survey of her career to date; definitely one of the most sparkling jewels in Britain¹s sublime line up of exhibitions in the year 2003.