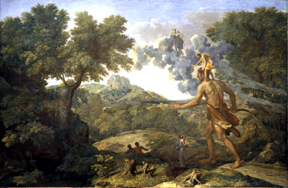 Blind Orion Searching for the Rising Sun
Oil on canvas; 46 7/8 x 72 in. The Metropolitan Museum of Art, New York, Fletcher Fund, 1924 (24.45.1)
POLYPHEMUS. ORION. Satyrs spying on the sleeping Venus. It is not every exhibition* that showers Cyclopes, giants, and the bestial with the beautiful upon the viewer. What an exceptional feast it is to be granted room after room of decollations of saints, murderous serpents, blue-green corpses, and seductive nymphs followed after by erotic goddesses, sometimes all in the same painting!
Oh, and I suppose any reviewer of Poussin must note that there are some interesting landscapes holding all this together.
Rumor has it another artist has just hung some automobiles from the ceiling of the Guggenheim. Yawn. Perhaps that is the trouble with most Contemporary Art, it is just so damn literal. Whether it is animals plopped in formaldehyde, swatches of orange, sorry- saffron nylon strewn along a park's path, or photographs of the artist's mother dying of cancer, there is no room for myth, imagination, or the psyche to revel. Must have started with the Art for Art's Sake/ Form Follows Function Movement, the stripping of ornament and labeling sensual beauty as degenerate crime. Art has been stripped not only of ornament, but of symbolism, myth, and poetry. Pretty much killed Painting as a discipline with Purity by the late 1960's. Color Field Painting was about as literal as you can get with paint. Paint as Paint. Canvas as Canvas. But Literalness was mistaken for Truth. Now, just when I thought I must have missed my appointment for my frontal lobotomy, Phillipe de Montebello, Director of the Metropolitan Museum gives us a glorious gift as he heads into retirement. And he has already followed Poussin up with a full retrospective of Gustave Courbet that just opened on February 27.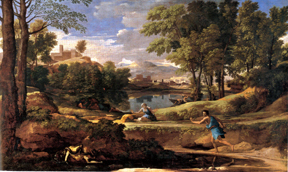 Landscape with a Man Killed by a Snake
Oil on canvas; 47 x 78 3/8 in.
National Gallery, London. Bought 1947 (NG 5763)
What this show has is over forty Poussin paintings gathered from Museums and Private Collections around the world. It is a "collaborative venture" with the Museo de Bellas Artes in Bilbao, Spain. At the Metropolitan Museum it is organized by Keith Christiansen, Jayne Wrightsman Curator of European Paintings, and Pierre Rosenberg, Director Emeritus of the Musée du Louvre. And no, if you miss it, you can not fly to Bilbao to overcome your lethargy- the show originally ran in Bilbao this past fall of 2007. You must see this show, for many of these paintings you will never have the opportunity to see again. They are becoming too fragile to travel, returning to the private collections, and have such varied and diverse locations of origin that it would require a fortune and many years to find them all. Moscow, Copenhagen, Edinburg, Jerusalem, Geneva, Belgium, Canada, Serbia, Sweden, Spain, and throughout all France, Italy, England the United States, and Germany. The power of these paintings en masse is breathtaking. One of these larger paintings was cut in half centuries ago and scholars only recently realized that the two "halves" formed a whole. This is only the second time the pieces have been re-united and after the exhibit they will be separated again by Neptune, or the Atlantic Ocean, if you will.
In addition to this great body of paintings, there are many drawings, perhaps fifty, that span the artist's career. They are mainly ink drawings with washed tones for shading, and seem to be either studies for the paintings, or "practice" sketches of landscapes and trees. Personally, I would skip them and spend as much time absorbing the paintings as possible.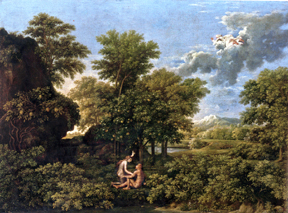 Spring: Adam and Eve
Oil on canvas; 46 1/2 and 63 in Paris, Musée du Louvre, Département des Peintures (Inv. 7303 and 7304)
I do not think you curate a show of an artist of this caliber so much as get out of their way. The work is grouped chronologically in sets painted at the same time-period. The curators reveal a modern take on Poussin by calling it Poussin and Nature, yet add the subtitle Arcadian Visions. What this subtitle refers to are his complex landscapes that are generally not real but composites of the Roman countryside, where Poussin lived, or entirely invented. Arcadia is a rural or "bucolic" part of Greece in the Peloponnesus, as opposed to densely populated and more northern urban Attica where Athens lies. Arcadia was thought to be Paradise and is the traditional home of Pan and Hermes. It is there that you will find the River Styx. Some Greek traditions even had it as the birthplace of Zeus. Romans drew inspiration from Arcadia as it was the place of origin one of their founders, Evander, who pointed out which hill the city was to be built on. Faunus, the Roman version of the Greek god Pan, was the father of Latinus, King of the Latini, or the Roman tribe.
This exhibition subtitle explains then the wonderful conceptual content of these paintings. There is no landscape of Poussin's that is lacking a human presence (I do include fauns, Satyrs, centaurs, God, and angels). A "pure" landscape is a theatrical stage on which there are no actors. No Will, no Fortuna, no story. That kind of painting is for me utterly unsatisfying.
The curators have done a fine job of getting out of our way.
I include here a quote from Cézanne provided by Pierre Rosenberg. "I would like, as in the Triumph of Flora, to join the curves of the women to the shoulders of the hills…Like Poussin, I would like to put Reason in the grass and tears in the sky." Though Cézanne often omitted characters from his paintings, leaving them vacant, I would agree. Poussin was attempting to do the opposite of Andy Warhol, who made art to please the crowds. Warhol's art was meant to be looked at for 15 minutes. Poussin's paintings are meant to be contemplated, meditated long on, and read like an epic poem or a passage from the Bible. You are able to spend 15 hours initially imbibing, then fifteen years. Naturally, Formally, and Conceptually, the glasses are all full. Each individual painting is fully complete in itself, the exhibition could comprise only one work and be omnisatiating.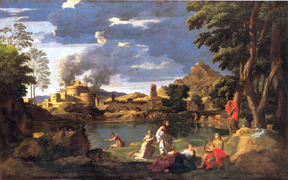 Landscape with Orpheus and Eurydice
Oil on canvas; 48 7/8 x 78 3/4 in
Paris, Musée du Louvre, Département des Peintures (Inv. 7307)
Hopefully, I do see a return to this conceptually in Painting. Perhaps it first sprang from the Outsider Art, Primitive Art, and Folk Traditions so popular 15 years ago, but many fresh shows in smaller new galleries are exhibiting work with a longer shelf life. But the Big Box Stores, i.e. Contemporary Art Museums, remain caught in a P.T. Barnum-like race to shock and awe the masses, however briefly. Think of all the labor, time, and money that went to hang Cai Guo-Qiang cars from the ceiling. There is no Formal angle, no Natural reference. Just a pun on gravity. And you get it in an instant, a moment later the thrill is gone. It is, in the second glance, so ultimately boring.
Modernist Manifestoes at the turn of the last century called for burning libraries and blowing up museums. Sometimes I wonder if they didn't succeed too well, but used a kind of Neutron Bomb, where all the buildings are intact but all the people (i.e. the new artwork produced by them inside) are dead.
Are Contemporary Art Casinos Narcissus gazing at his own reflection, in love with himself, 'til he pines away and dies, famished and unfulfilled? The thought crossed my mind when reflecting on Nicholas Poussin's painting, The Infant Bacchus Entrusted to the Nymphs of Nysa; the Death of Echo and Narcissus.
(Michael X. Rose, michaelxrose.com, is an artist and painter who lives, works, and shows in the Hudson Valley Area)
*"Poussin and Nature: Arcadian Visions" (thru May 11): The Metropolitan Museum of Art, 1000 5th Ave., NYC. (212) 879-5500. A full-color catalogue (Yale University Press: 432 pp.; 8 ¼ x 11; 242 Illus., 232 in Color; Bibliography; Index of works by Poussin; Index. 65.00 Hardcover) accompanies this exhibition.