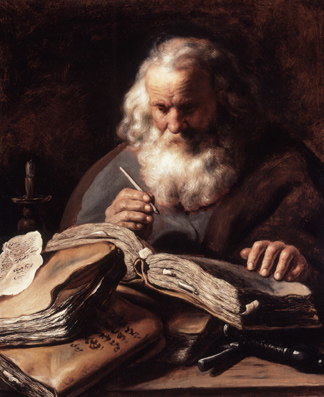 Saint Paul, c. 1624-1625 oil on panel 94 x 78.7 cm
(37 x 31 in.) Agnes Etherington Art Centre, Kingston,
Gift of Alfred and Isabel Bader, 2006
Jan Lievens
at the National Gallery of Art
all Photos courtesy of The National Gallery of Art
By RAYMOND J. STEINER
ART TIMES December 2008
THE VAGARIES OF art history, though long deplored by serious art-lovers, still continue, still annoy, still amaze. The present exhibition* at the National Gallery of Art is just one more glaring case in point — the overlooked genius of Jan Lievens — and we are happy to say that Arthur Wheelock Jr., curator of northern baroque painting at the National Gallery and author of the accompanying catalogue, more than makes up for the neglect in his comprehensive and scholarly overview.
Although it is true that some fine artists have been purposely ignored or under-rated — most women artists in general immediately come to mind, but it was particularly true of female botanical artists in the past whose work was often not even signed (see, for example, our review 'Drawn and Colored by a Lady' at Arader Galleries in our March 2007 Issue) — there are examples, like this one, where the artist just simply had ill luck.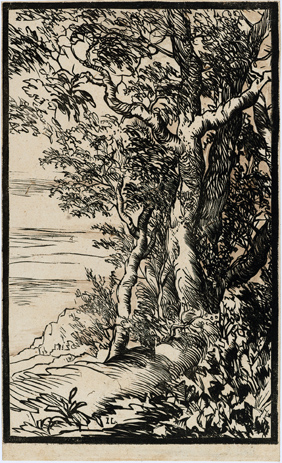 Landscape with a Group of Trees, c. 1640
woodcut 24 x 15 cm (9 1/2 x 5 7/8 in.)
Rijksmuseum, Amsterdam
Jan Lievens had the misfortune of being born in the same town as and only one year apart from Rembrandt van Rijn who, as everyone knows, handily "took the field" in art historical terms and in no uncertain manner. Though a fellow-student in Pieter Lastman's atelier — and, to some, equally if not more promising as a painter than Rembrandt — Lievens's reputation and career not only hardly got off the ground, but seemed to simply become overshadowed as Rembrandt dominated the art world — back then, even as he does now.
Wheelock judiciously explores the "whys" of Lievens's apparent bad luck, citing the painter's moving about (to England and other Netherlandish towns and cities) along with his propensity to change "directions" in his focus and work, among the most probable causes of his falling below the art/historical/critical radar. In all probability, Wheelock is spot on, since — in spite of his apparent inability to settle on a 'signature' style — even a cursory glance at Lievens's work will reveal a master painter…so good, in fact, that some of his work had even been attributed to Rembrandt over the years. Justly, then, Wheelock uses the word "rediscovered" (rather than, 'reconsidered', say) in the title of his essay, for this is surely a case where a major talent has been carelessly pushed into the background.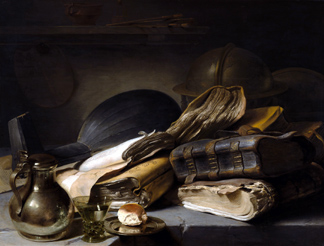 Still Life with Books, c. 1627-1628 oil on panel 90.3 x 119.3 cm
(35 9/16 x 46 15/16 in.) Rijksmuseum, Amsterdam
Surely one need not rely on Wheelock's — or my — opinion in this matter. As I note, a cursory glance will do — whether at the lavishly-illustrated and full-color catalogue, or by visiting the show itself (surely the best option, if a trip to Washington is in your near future).
Arranged chronologically, 139 paintings, etchings, woodcuts, and drawings (in pen and chalk) make up the show, more than enough to establish Lievens's reputation as a master in his own right. Whether in portraiture (cf. "Old Woman Reading", Cat. No. 1), landscape (cf. "Dune Landscape with Trees", Cat. No. 43), still life (cf. "Still Life with Books", Cat. No. 11); religious themes (cf. "Saint Paul", Cat. No. 4 or "Christ on the Cross", Cat. No. 32), or mythological (cf. "Mars and Venus", Cat. No. 50), Jan Lievens certainly proved his prowess in oil painting. For those interested in his draftsmanship, I especially draw attention to his "Landscape with a Group of Trees" (Woodcut, Cat. No. 80) and "Old Tree Trunk in Front of a Forest" (Brown Ink on Oriental Paper, Cat. No. 135).
If Dutch realism is among one of your particular passions, you won't want to miss this show.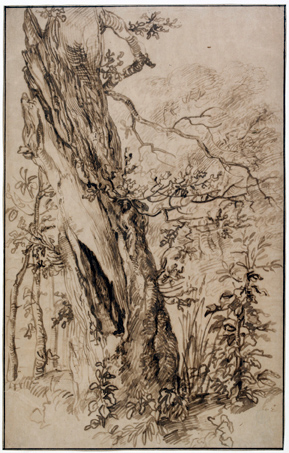 Old Tree Trunk in Front of a Forest, c. 1655-1665 pen
and brown ink on oriental paper, the outlines partially indented 35 x 22.2 cm (13 3/4 x 8 3/4 in.) The British Museum, London
*"Jan Lievens: A Dutch Master Rediscovered" (thru Jan 11, '09): National Gallery of Art, National Mall, between 3rd and 9th Streets at Constitution Ave., NW, Washington DC. The exhibition will then travel to the Milwaukee Art Museum (Feb 7 — Apr 26. '09) and close at the Rembrandthuis, Amsterdam (May 17 — Aug 9, '09). A fully-illustrated catalogue by Arthur K. Wheelock, Jr. accompanies the exhibition (reviewed ART TIMES November 2008 Issue): 320 pp.; 9 ¾ x 11 ¾; 295 Illus., 250 in Color; Notes; Select Bibliography; Index. $65.00 Hardcover. A related exhibit, "Dutch Cityscapes", is scheduled to run from Feb 1 — May 3, '09)