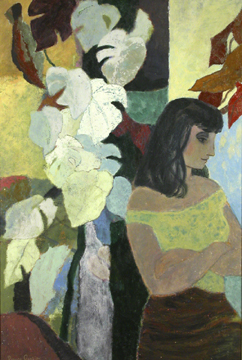 Bruce Currie, Portrait of the Artist's Wife
acrylic on watercolor 1960
The Magafan & Currie Clan
at The Woodstock Artists and Association Museum
By RAYMOND J. STEINER
online review Summer 2006
PURELY BY CHANCE, I moved to the Woodstock area (West Hurley) in the same year as the "Magafan & Currie Clan" arrived. Ethel and Jenne, Bruce and Eduardo (Chavez, Jenne's husband), however, were already on their way to becoming recognized artists while I, just arrived from Brooklyn New York with my family, was only 12 years old. Still, I was old enough to be aware of the old art colony's burgeoning "renaissance" as more and more artists came to Woodstock after the end of WWII. Although I had not met any of the "Clan" early on, I did hire out as a day-laborer, cutting the lawns and brush for many artists who were too busy in their studios to tend to such things. The League was still going strong, and the old magic of the Colony continued to attract artists from far and near. My bike trips past the League's imposing stone studios always attracted my eye, always left me in awe of the "real" artists who were inside perfecting their skills.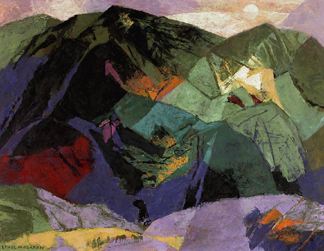 Ethel Magafan Early Evening, oil on hardboard 1973
In later years, when I began profiling Woodstock's "old guard" — Ethel, Bruce, and Eduardo among the many now long gone, for local newspapers like the Kingston Daily Freeman and the old Post Star's "Lifestyle Magazine" — years before we began our own publication, ART TIMES — "Aunt" Jenne was already gone, young Jenne still in art school. And though it is now close to thirty years ago, I still remember visiting the studios of Ethel, Bruce, and Eduardo. Already nationally known, my visit to the "Curry/Magafan" household was not without some trepidation on my part, but whatever anxiety I was experiencing was quickly dissipated in the warmth that both had shown me. Anyone can see how the Clan had fed each other's vision — it is obvious on the walls of this exhibition* — but it is also clearly the case that each of these artists held fast to their own individual aesthetics. During my visit, I asked Ethel how she kept her art and ideas separate from those of Bruce. "Our studios are on opposite ends of the house", she replied. Seemed enough of a distance to keep their own ideas pure. Eduardo, of course, had his studio some distance away, over on the John Joy Road.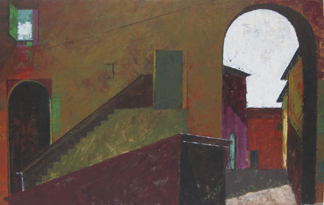 Jeanne M Currie
Still, as the word "Clan" implies, this was, if not a "school" in the formal sense, a special group of people who shared not only a love of art, but also a love of life and nature. For Ethel it was her beloved Colorado Mountains, for Bruce, his beloved wife and daughter, for Jenne those special old buildings that had "character", for Eduardo (whose work is not included in this show), his horses, and for Jenne, a wonderful mixture of what she had inherited along with what she had so determinedly discovered on her own. Only Bruce and his daughter Jenne is till around, but this was indeed a remarkable family of artists, as these ninety-odd works — paintings, prints, drawings, and sculptures — so admirably show.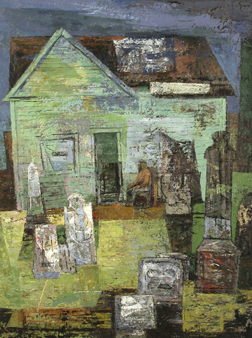 Jenne Magafan, The Stone Cutter, o/c 1950
Kudos to Susana Torruella Leval for curating this exhibit, to the Woodstock Artists Association and Museum for both this exhibit and for its long history of showcasing Woodstock talent, and to all the others — designers, lenders, funders, and archivists — who brought this extraordinary showing to its fruition. This is one you surely ought not miss.
*"The Magafan and Currie Clan: A Family of Artists" (thru Jul 30): Woodstock Artists Association and Museum, 28 Tinker St., Woodstock, NY (845) 679-2940.