By RAYMOND J. STEINER
ART TIMES June 2007
IT IS A rare treat for this critic to come upon an art exhibition without having to first wade through a barrage of press notices and advertorials, then to be further confronted with leaflets, wall plaques, artist's statements, and gallery-sitter chatter upon arrival — all before I have the opportunity to get my first glimpse of an actual piece of art. How fortunate, then, to come upon the works of Audrey Dick Kessler* — some 30 oils, watercolors, and drawings in pastel, conté crayon, brown ink, and charcoal — all hanging in solitary self-referential commentary, not a single one accompanied by so much as a title. Since pictorial art has been successfully communicating to mankind since its appearance in pre-historic times, allowing it to speak on its terms and in its own language is, in my estimation, the most sensible way for art to be approached critically.
Curated by Mery Rosado, proprietress of Café Mezzaluna Bistro Latino and director of the Café's gallery, this is not the first exhibition Rosado has hosted — the Café is well known in the area for both its regular support of both art and live music — but it is the first that she has mounted without benefit of accompanying information about the artist. Audrey Dick Kessler, it appears, is somewhat of an unknown entity. What is definitely known is that she had lived in Woodstock, New York, that she studied under a number of teachers at the Woodstock School of Art, that she had lived for a period of time in the Bahamas, and that she has recently died of a serious illness while still in her early 60's. As best as can be determined, this is the first public exhibition of her work.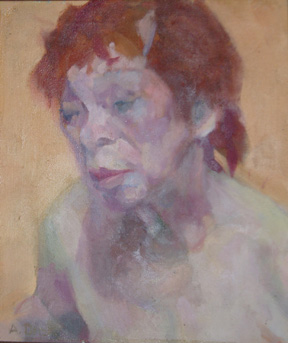 At even a cursory glance, what is readily apparent is that Kessler was not only talented but gifted as well. Looking first at her drawings (there are about a dozen) — for me, always the best indicator of an artist's innate technical abilities — we find a skillful coordination between eye and hand, her application of either ink, crayon, or charcoal both sure and accurate. One of my favorites — a small landscape depicting a field bisected both by a parallel (to the picture frame) wooden fence and by a diagonal path that cuts from the right foreground to disappear into the left background — has three trees dominating the space — all objects sensitively observed, meticulously drawn, and finely detailed. However, most of her drawings are of figures — some simple pencil sketches of reclining male and female nudes and others, formal upper torso figure studies (classroom exercises that were once known as "academics"), which are also of both sexes. The larger, more formal, studies are extremely accomplished, most indicating that the depiction of the human form was not only her forte (the exhibit is comprised of a selection of figures, landscapes, and still lifes), but also her preferred subject matter. Both sexes are handled with a cultivated eye; yet, to this viewer, it is in her handling of women that Kessler reveals the full depth of her perception into the human psyche.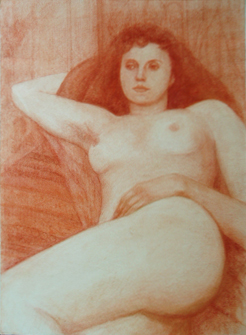 Especially fine are her renditions (paintings as well as drawings) of older women. Here the artist delves beneath the surface beauty of form to uncover the full psychology that lies behind the visage. On the strength of these alone — and there are only a handful of these studies of mature females — one would feel justified in characterizing Kessler as an accomplished artist abundantly aware of the human condition — in short, not merely a skilled figure painter, but also a soulful humanist well aware of the tenuousness of life.
Her still lifes — two florals and a rather large and "busy" rendition of a cloth-covered wooden table laden with a vase, ceramic pot, cutting utensils, several pumpkins and what could be either a sombrero or a napkin heaped in a cone-like shape — do not fare well alongside her figure and landscape studies. To my eye, they seem somewhat inert, classroom exercises that appear to be executed in a rather mechanical manner — as if done to please an instructor rather than to explore her own aesthetic vision.
Though I am persuaded that it was the human form which most occupied Kessler's creative interest, I was equally impressed by her handling of landscape. If it was to the human condition that her heart and mind were drawn, I have little doubt that the lure of the natural world also carved its own place in her soul. A large landscape in oil — a gnarled tree standing before four distinct planes of color (green, gold, green, brown, respectively) with snatches of the sky glimpsed through its tightly-leaved and green-drenched branches — is compelling in both its composition and in its impact on the eye. Perhaps because it is "local" in feeling — namely, what appears to be a typical "Woodstock Scene", this painting (as well as some of the small landscape drawings) is more authoritative than the two watercolors that are most likely Bahamian scenes — tropical locales that seem not to have penetrated her consciousness as deeply as have Woodstock's natural surroundings.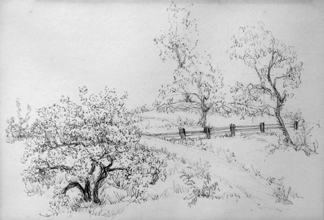 Aside from individual works, one is struck by Kessler's range — not only in terms of size, mediums, color handling, and motifs — but one must also admit, in degrees of technical expertise. Of course, we have no means of knowing which of these works were considered as "finished" — if indeed, any of them were ever intended to be put on public view. The fact remains, however, that several seem to be "works-in-progress", little more than exploratory forays at "getting one's ideas down" before they flit away into oblivion. Several are monochromatic and/or monolithic; others a medley of Matissean color and texture — as if the artist has still to decide what each completed work was destined to look like. Others seem to be applied in a hurried fashion — as if the artist knew how limited her time was and how important it was to get a statement — some statement — down on canvas before it was too late or, perhaps, was just an attempt to get at essence before it "gelled" too quickly into form. One is left with the feeling that it is precisely the artist's knowledge of her own mortality that lies behind not only what comes across as haste, but also compelled her to jump from instructor to instructor, as if her need to determine her vision, her intent, her expression, necessitated not being ensnared by anyone "other." Whether or not we can leap so far into conjecture, it seems to me almost certain that her consciousness of her pending death acutely sensitized and shaped the underlying humanism common in her figural work.
I applaud Mery Rosado for her willingness to give over her gallery space to an artist that is "unknown" in much more than our usual understanding of that term — it most surely underlines her genuine wish to support the arts. This is a show that deserves a visit — edifying and visually pleasing on more than one level. In a sense, it reveals the artist herself as a "work-in-progress", allowing us a glimpse — if not into her mind — at least into a facsimile of her working studio.
You won't be disappointed — and, while you're there satisfying your visual appetite, tempt yourself further by glancing at Mezzaluna's gustatory Latino delights — the food won't disappoint either.
"Audrey Dick Kessler" (thru Jul 14): Café Mezzaluna Bistro Latino and Gallery, 626 Rte 212, Saugerties, NY (845) 246-5306