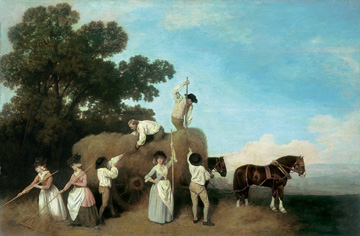 "Haymakers" 1785 (Oil on Wood)
By RAYMOND J. STEINER
ART TIMES March 2007
MOUNTED IN COMMEMORATION of George Stubbs? bicentenary, this exhibition* — which has come to its New York venue at The Frick Collection via two earlier presentations at the Walker Art Gallery (Liverpool) and at Tate Britain (London) — offers a selection of seventeen paintings that showcase that artist?s range of works from his early portraits to his much celebrated animalÓ paintings. Long known as England?s preeminent horse painterÓ, the present exhibition reveals Stubbs to be much more.
Not that Stubbs? reputation as a fine painter of horses is overstated — as an exhibition organized by the Kimbell Art Museum in Fort Worth, Texas in 2004-05 gave ample evidence. Stubbs and the HorseÓ — the name of both the show and the catalogue written by Malcolm Warner (who will give a lecture at The Frick Collection on May 2 on the subject) and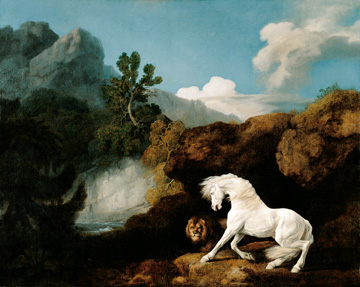 "A Horse Frightened by a Lion" 1770 (Oil on Canvas)
Robin Blake accompanying the exhibition — gave over a third of its space to a showing of Stubbs? anatomical studies of the horse, a series he executed between the years 1746 and 1752 when he spent time in the dissection of them and which culminated in his publishing of the well-received The Anatomy of the Horse in 1766. An autodidact, George Stubbs managed to attain a considerable amount of respect as a painter — becoming an academician at The Royal Academy and counting royalty among his many patrons — on the basis of his ability to render his subjects with near-scientific precision. Thus, his reputation as the painter of horses was well merited.
George Stubbs (1724-1806): A CelebrationÓ, however, reveals how shortsighted it is to view him as only a master at painting animals. Animals, of course, are represented — oxen, fowl, dogs (each hound in Five Hounds in a LandscapeÓ is given a distinctive face,Ó each one having, like his reapers and haymakers, a personalityÓ) — lions, and even a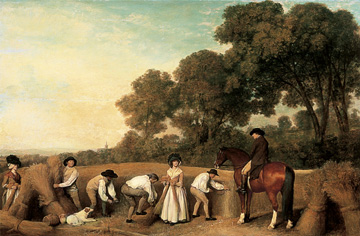 "Reapers" 1785 (Oil on Wood)
moose and a monkey — but so also are human figures and landscape. If we can only judge him by his reapers and haymakers in this particular exhibition there seems little to quibble with as to his skillful handling of the human form. As for landscape, although largely serving as backdrops, his treatment of hills, fields, clouds, and streams — see, for example, his masterful clouds in almost all of his works and the painterly handling of the highlights on water (a particularly difficult subject in any medium) in Horse Attacked by a Lion,Ó — leaves little to be desired. Had he concentrated solely on the painting of landscape, it seems that he might have rivaled his contemporary, Thomas Gainsborough, in the genre.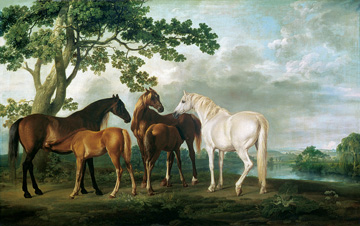 "Mares and Foals in a River Landscape" c. 1763-8 (Oil on Canvas)
Stubbs was also adept at painting a convincing townscape — adding as simple window dressingÓ, miniature village views in his backgrounds — but done quite skillfully for all its incidental relevance for whatever might have been his primary subject. In the end, it must be conceded that far from being a mere horse painter,Ó George Stubbs, in his compositions and his handling of paint and subject matter, surely deserved whatever success he attained during his lifetime — as even this modest presentation of seventeen of his works so readily shows.
You won?t regret a trip to The Frick to take in and relish this early master.
* George Stubbs (1724-1806): A Celebration (thru May 27): The Frick Collection, 1 East 70 St., NYC (212) 288-0700. Catalogue is available.