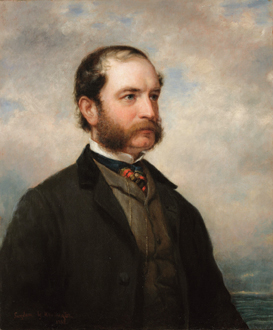 Daniel Huntington, 1816–1906
James Augustus Suydam, NA, 1862
Oil on canvas, 30 x 25 inches
National Academy Museum,
Bequest of James A. Suydam (611-P)
Luminism at the National Academy Museum
(Photos courtesy of the National Academy Museum)
By RAYMOND J. STEINER
ART TIMES November 2006
AS THE ACCOMPANYING catalogue to this exhibition* — bearing the same title as does the exhibition and reviewed in our September 2006 Issue — makes abundantly clear, the labeling of art or art "movements" is often a tricky business, and the term "luminist" — or "luminism" — is certainly no exception to this truism. Strictly speaking, any artist worth the title is almost always in a class of his/her own, and though one can certainly find echoes and influences in the work of any practitioner, the making of art is by and large a strictly individual process. Almost by definition, then, the artist — to be an artist — is sui generis and not "part of" or a "member of" or an "adherent of" or a "follower of" any other artist, for if he/she is such, then the claim to being an artist is rendered meaningless. Indeed, if a painter too slavishly imitates his/her own past work, falling into what is commonly called "formula" painting, then once again the title of artist may soon be denied by the discerning viewer.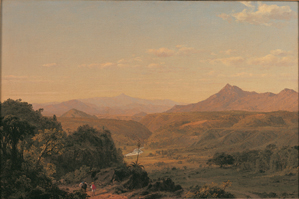 Sanford Robinson Gifford, 1823–1880
Mount Mansfield, Vermont, 1859 Oil on canvas, 10 1/2 x 20 in.
National Academy Museum, Bequest of James A. Suydam (493-P)
Nevertheless, the fact remains that it also true that almost all art of a given culture necessarily shares in some common principles, mores, beliefs, and tastes. How much more intimately, then, might that sharing become when we consider a small circle bound by both time and proximity such as the one featured in this exhibit? Co-curators of "Luminist Horizons" and authors of the accompanying catalogue Mark D. Mitchell and Katherine E. Manthorne answer precisely this question by bringing together some fifty-five paintings of just such a circle to show us how they might be sharing a collective aesthetic perspective vis-à-vis the play of light in landscape painting— in this case, a vision that has come to be described by some as "luminist".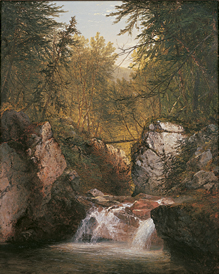 John F. Kensett, 1816–1872
Bash Bish, 1855 Oil on canvas, 36 x 29 inches
National Academy Museum,
Bequest of James A. Suydam (700-P)
Whether or not you subscribe to the notion that this group — James A. Suydam and a handful of others such as John F. Kensett, Asher B. Durand, Sanford Robinson Gifford, Frederic Edwin Church, and Jasper Cropsey who also figured in the somewhat larger grouping known as "The Hudson River School" (another questionable lumping together of extremely different talents) — was as closely-knit as to warrant such a label as "luminists" (several scholars have already pointed out that such a focus on a distinctive use of light in painting is and has been shared by a great many artists over a much longer period of history and over a much greater geographical area of the globe), the fact remains that this particular group of painters and this particular group of paintings does share a striking similarity in both motif and in their handling of that motif, and all pedantic quibbling aside, it is a collection of works that is sure to please the aficionado of the landscape genre.
Though Suydam's works necessarily figure large in his collection and dominate the exhibition, there are enough others included to lend authenticity to gathering them into a like-minded (or aesthetically-inclined) brotherhood and brought together in a group show with a title of "Luminist Horizons". In addition to those noted above, the show includes the work of Andreas Achenbach, George Boughton, John George Brown, Benjamin Champney, William P.W. Dana, Albert Flamm, Édouard Frère, William Hart, Thomas Hicks, Daniel Huntington, Eastman Johnson, Miner Kellogg, George Cochran Lambdin, Evariste-Vital Luminais, Louis Rémy Mignot, Jules Achille Noël, William Trost Richards, Paul Seignac, Aaron Draper, and Worthington Whittredge — many, perhaps, largely unknown to casual viewers.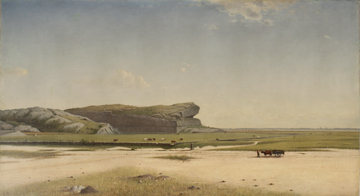 James A. Suydam, 1819–1865
Paradise Rocks, Newport, 1860 Oil on canvas, 25 1/8 x 45 1/8 inches
National Academy Museum, Bequest of James A. Suydam (1226-P)
The exhibition goes a long way towards affirming how the painting of landscape has — and continues to have — secured a firm place in the repertoire of artist's motifs. Further, the continuing popularity of such shows as "Luminist Horizons" also confirms the hold that landscape painting has on the contemporary art viewer. There is a great deal to admire here, and for myself, a dedicated "Sunday-afternoon" landscape painter, a great deal to learn from. Even the lesser-known painters in the exhibit display a sensitivity to nature that, in the deplorable disregard for our environment from some quarters, we may all take to heart.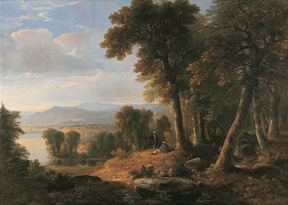 Asher B. Durand, 1796–1886
Landscape, 1850 Oil on canvas, 27 1/4 x 38 1/2 inches
National Academy Museum, Bequest of James A. Suydam (386-P)
You ought not miss this serenely beautiful show — John F. Kensett, one of my own particular favorites, for example, rarely disappoints — and, whether or not you are convinced that they are all sharing a recognizable aesthetic when it comes to the handling of light, you can surely come away with an absolute conviction that they are all sharing in a supreme love of the beauties of nature.
*"Luminist Horizons: The Art and Collection of James A. Suydam" (thru Dec 31): National Academy Museum, 1083 Fifth Ave. at 89th St., NYC (212) 369-4880. After closing, this exhibition will travel to the Taft Museum of Art in Cincinnati, OH, The Hyde Collection in Glens Falls, NY, and finally to the Telfair Museum of Art in Savannah, GA.