Explore our site: Art Essays, Videos, Blogs, Literary Writing & Resources for Creatives
We have gone Green and Global with arttimes online. Check back regularly for current announcements, blogs, videos, essays, advertisersí information and up-to-date Calendar and Opportunity Listings on this arts magazine. There are so many more possibilities being online. We invite you to submit your blogs and videos for consideration.
Read Published and Posted Essays including ones from the past 15 years
Click on categories below
New: Juneau, Alaska, part 3- 1st Friday Artists,
Theater and Scenery Cornelia Seckel
New: Help Desk 4 Creatives Merritt Minnemeyer
New: My 2 Cents, Musicals for a Penny Jacquie Wolf
New: American Watercolor in the Age of Homer and Sargent at the Philadelphia Museum of Art by Jean Bundy
Taking Stock Raymond J. Steiner
New: Calendar listings
New: Opportunites & Calls for entries
New: Poetry by Raymond HV Gallucci, Amie Ilva Tatem, Ann Taylor & Fiction by Don Maurer
Cornelia Seckel's Blog: What's up and more
Decades of Attending College Art Association's Annual Meeting Gail Levin
Paterson- A Review by Christina Turczyn
"Harlow" falling in love with the Big Screen by Keith Nieto
Solving Problems in 1 Hire? Wendy Caster
Picabia and Dance Dawn Lille
Note from the Publisher:
I am so pleased to add Merritt Minnemeyer to our list of contributors. I believe the column Help Desk 4 Creatives will provide an important service to our readers.

Call to action:

• Click here to have updates emailed to you
• submit your video or blog
New: Travel and Culture:

Juneau, Alaska, part 3- 1st Friday Artists, Theater and Scenery

One of the most glorious places I visited was Mendenhall Glacier, 13.6 miles long, it is one of many glaciers of the Juneau Icefield, and one of the most visited glaciers in Alaska. (see essay)

Peek and Piques:

Taking Stock
Although, when Cornelia and I co-founded ART times back in 1984, we did not set ourselves up as a not-for-profit entity, we soon discovered that de facto, regardless of our intent, it would indeed be a not-for-profit enterprise.
…More than once over the years — and especially during the last few — we've been asked why we stay in business. We look at each other, at the questioners, and mostly just shrug. But, Yes! Why do we continue? Our answer sounds a little corny but to put it into one word, the answer always was and remains: altruism. (see essay)

New: Help Desk 4 Creatives:

Welcome to the Help Desk
We are inherently creative. As humans, we naturally draw inspiration from our environment, and interpret it into every day practice, whether we are conscious of it or not. Artists, of course, are very aware of the creative process and use it to offer reflection, beauty, and powerful emotional connection to the collective culture. Where artists often falter, however, is applying those gifts in practical matters. As the recently installed Grants & Funding Manager at Arts Mid-Hudson, an arts council in New York's Hudson Valley, I have made it my mission to assist artists and creatives in employing their innate gifts in service of their own financial health and business development.…… (see essay)

New Art Review:

American Watercolor in the Age of Homer and Sargent
at the Philadelphia Museum of Art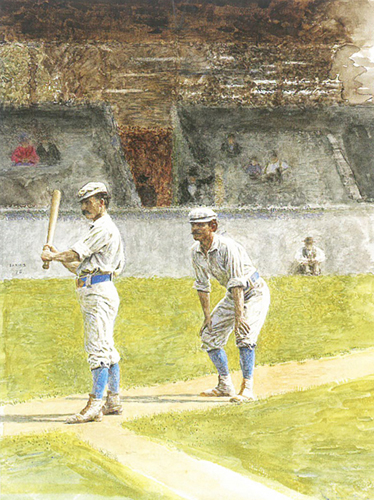 Baseball Players Practicing, 1875, by Thomas Eakins
In this exhibition and catalogue, three watercolors struck me as truly American. They are brash yet ambiguous in narration, as figuration competes with landscape for dominance. Continuing to pay homage to traditional British Picturesque, artists still promoted the rough/ smooth of landscaping.
The Bathers, 1917, by Sargent disrupts the traditional three-tier landscape; Boy Fishing by Homer, 1892, mixes opacity and transparency while describing the smooth/rough of a three-tiered landscape; Baseball Players Practicing, 1875, by Eakins, expresses the concentration in batter, catcher and fans that are rendered impressionistically. (see essay)
New Theater:
My 2 Cents, Musicals for a Penny
…The struggle to perceive and accept the difference of living in a society that is far more accepting and tolerant and to take your place in a world that once would have condemned you to death is a real one for Beau.

Rufus will never know what it was like to live that way and he rarely gives it a second thought. Yet the two of them find love and happiness together for a while and when they part they are both a little bit healed and a bit more whole. ……(see essay)

Paterson, written and directed by Jim Jarmusch, begins with the line, "Here is the most beautiful match in the world." Starring Adam Driver and Iranian actress Golshifteh Farahani, it is a quiet but powerful film that unfolds through the routine of a bus driver's week, yet is about so much more. I immediately think about whether the spark alluded to is poetry. Or the city itself. It might also be desire, or love, as this is a love story.
(see essay)

The exhilarating thing about this exhibition was that Picabia, who was committed to the sensation of the new and reveled in the conflicts he saw between the "isms" of his times, is still challenging. As he switched from dadaism, to cubism, surrealism, abstraction and realism, and then kept changing back and forth, his work was always fresh, interesting and new. The title covering his exhibition, a quote from him, says it all . (see essay)
Film:
Harlow and fallling in love with the Big Screen
…Lights and titles flickered on the immense outdoor screen announcing the film Harlow. Harlow? Although at that tender age I knew nothing about Jean Harlow, I instantly fell in love with the 40 foot image of the beautiful platinum blonde portrayed by Caroll Baker. That night my eight year old senses were overwhelmed by the monochromatic splendor of searing platinum blonde, silvery white bias-cut gowns, glamorous sets, and glorious sweeping music by Neal Hefti. Years later I discovered just how inaccurate this film was in portraying the short life of the iconic star.… (see essay)
Jean Harlow