Explore our site: Art Essays, Videos, Blogs, Literary Writing & Resources for Creatives
I am so vey excited to have published the last ART TIMES ink on paper issue as we have gone Green and Global with arttimes online. Check back regularly for current announcements, blogs, videos, essays, advertisersí information and up-to-date Calendar and Opportunity Listings. There are so many more possibilities being online. We invite your input with your blogs, videos and suggestions.

Recently uploaded
Roanoke VA, ExploreTrains, Music, Museums, Fine Arts and Crafts w/ Cornelia Seckel
Notes on the Saugerties Artists Studio Tour Raymond J. Steiner
Road Trip to the Berkshires Cornelia Seckel
Dancing Through Summer Dawn Lille
Film: Gone but not (sigh) Forgotten Henry P. Raleigh
The Transformative Power of Rehabilitation Edwin V. Santana
Opportunity listings
Calendar of Cultural Events
New Letters
New Fiction
New Poetry
New Books

Call to action:

• Click here to have updates emailed to you
• submit your video or blog
Read Essays from the past 15 years by clicking on categories below
Letter from the Publisher
Going Global and Going Green
It has been a hard decision but we have "bitten the bullet" and we are going Global and we are going Green. This Summer issue of ART TIMES marks the beginning of our 33rd year, our 314th Issue and our final ink on paper Issue. Click here for the story of how we began can be found.
For the past year I've been engaging in Facebook, Instagram, and Twitter and started a blog that takes the place of my Culturally Speaking column. This site is evolving, my Blog is evolving and I am providing links to guest Blogs & Videos considering Demos that Creatives would be interested in. Raymond's Blog will continue with his editorials, reviews of art shows, and his Peek and Piques! (see essay)
Peek and Pique: Thirty-Five years in Partnership with Cornelia Seckel
Thirty-Five years in Partnership with Cornelia Seckel, thirty-two of which spent in founding, publishing and building ART TIMES has been, for both of us, a heady, mind-expanding and extremely educational experience. The people we've met, the trips around the world — both the anxieties and accolades — all have enriched our lives, ourselves. Whatever my contributions, it was Cornelia's vision, her fearlessness, her will to make ART TIMES a reality that not only launched but kept alive our desire to foster the arts in all its guises..(see essay)
Speak Out:

The Transformative Power of Rehabilitation

The positive experience RTA grants me raises my confidence level to skyscraper heights. However, going home to join the Alvin Ailey American Dance Theater or becoming the next John Legend or even co-starring alongside Scarlett Johansson in a block-buster movie is unrealistic. But continuing in my self-development to make better life choices isn't. No longer am I on a destructive path; and no longer am I a threat to society. I am ready, and prepared to face everyday hardships and stresses of life as a citizen of the community. And that's a debt I will forever owe to the transformative power of RTA. (see essay)
Dance:

Dancing Through Summer
……He calls the result of their collaboration and his individual work "physical theater," in which his approach is a distillation of the core of a narrative, but is also closely related to he human emotions involved. The task is how to generate movement from text.
The result is a gestural language that makes constant use of the arms to shape space, and hands that conduct their own dramatic dialogue. Their quick, but complete, continuous movements reflect an obvious emotional connection to the entire body. (see essay)
Adam Barruch and Chelsea Bonosky.
Photo Credit: Elizabeth Romanksi
Film:

Gone But Not (sigh) Forgotten
There it was — a full — page ad for a new musical stage production of American Psycho, proclaimed as "a carnal carnival of song and dance." After a successful London run, it's based on The Bret Easton Ellis's novel about a yuppie killer as was the 2000 movie — non — musical. Carefree slaughter set to music may seem bizarre yet it's a sure bet a filmed musical version is soon to come. ..…(see essay)
Profile:

Marlene Weidenbaum
Soulful. More usually applied to the art of sound — music, especially — the word soulful, or profound — even spiritual — just barely describes the oeuvre of Marlene Wiedenbaum. Whether landscape, figurative, still life (or a combination of figure and landscape such as "Sisters"), her paintings not only project outward toward the viewer but also invite — nay, compel — the onlooker to enter its vibrant, nearly irresistible magnetism. (see essay)
Some people like the sound of conversation, others silence, and some of us love the sound of music. When I started searching for a used piano, my dream wasn't to produce another "Baby Mozart" but I hoped to share an appreciation of music with my sons. Buying a used piano seemed innocent enough and not terribly extravagant. I'd grown up crowding around a tiny electronic organ with my siblings. … (see essay)
Theatre:

When Less is More: The 90-Minute Play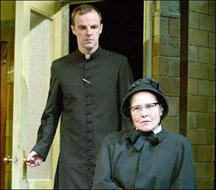 Doubt (original cast), starringBrian F. O'Byrne and Cherry Jones. Photo by Joan Marcus.
…I think this theory relies on knee-jerk conventional wisdom and ignores the huge success of, oh, Hamilton, which runs 2:45; The Curious Incident of the Dog in the Night-Time, which also runs 2:45; and 2014's Pulitzer Prize-winning drama, The Flick, which runs a quiet and plotless three hours; all three have intermissions.
But not every story needs 165 minutes to be told. And there is something deeply rewarding about being 100% invested, without interruption, in a sleekly written piece pared down to its essentials..… (see essay)


Share |