Take a look at our Distinctive Literary Journal & Arts Magazine with Art Essays, Literary Writing & Resources for Creatives

ART TIMES is the go-to source for writers, painters, sculptors, film makers, actors, musicians and people looking for calendar listings, opportunity listings, arts schools, theatre auditions, juried art shows, performance locations, and writing competitions. Over the past 30 years that we have been publishing, numerous individuals have thanked us for leading them to galleries where their work is shown, companies who have produced their music and plays as well as to competitions where they have won awards and acclaim.
Explore our site by going to the navigation bar above, there are hundreds of essays and resources for the creative spirit and those who appreciate good writing.
On this home page you will find links to our current printed issue and to essays and resources that are exclusively online and updated monthly.

New as of MAY 1
Calendar
Opportunity listings

Dawn Lille Paul Taylor's American Modern Dance
Henry P. Raleigh Free Movies
Jennifer Dunning "The Good Reader" a work of short fiction
Ina Cole Jean Dubuffet Monsieur Plume: An Existential Anti-Hero
Call to action:

• Click here to have updates emailed to you
• submit your video or blog
Read Essays from the past 15 years by clicking on categories below
…Among the many entertaining choices your modern television offers you nowadays is "Watch Free Flix- free movies instantly". Ok, you can figure these won't be Oscar caliber films, still that's pretty generous. And there are a lot of them all arranged in convenient categories- you know, Most Popular, Crime, Drama and the like..… (see essay)
NEW Art Review:

Jean Dubuffet
Monsieur Plume: An Existential Anti-Hero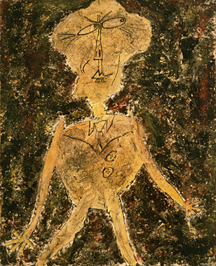 Jean Dubuffet "Monsieur Plume Botanical Specimen"
In 1946-47 Jean Dubuffet created a series of six portraits depicting the misfortunes of an enigmatic figure known as Monsieur Plume. But who was Monsieur Plume? He repeatedly appears in paintings and texts of the time, in the guise of a shadowy chameleon-like voyager. The mysterious Plume was, in fact, an absurd manifestation of the artist and writer Henri Michaux, who had created this fictional character as a doppelganger, placing him within irrational situations that unravel through a series of narratives. (see essay)
The first museum exhibition of Dubuffet's drawings will be on view at the Morgan Library & Museum, NYC from 30 Sept 30- Jan 2
NEW Dance:

Paul Taylor American Modern Dance
…The sixteen- member group, as always, danced every step with a nuanced intensity, dissecting the space with a variety of qualities and ending every performance with as much energy as they began it. Each of these dancers is a unique individual, unbelievably rich in education and experience, but they are capable of melding as one when a work requires this. What a joy to experience them. (see essay)

(photo credit Paul B. Goode)
Theatre:

The Tricky Limits of Color-Blind
and Gender-Blind
Once upon a time, boys played the women's roles in Shakespeare's plays. Once upon a different time, Al Jolson and Eddie Cantor performed in blackface to great acclaim, and some brilliant black performers had to hide behind blackface to be accepted by white audiences. (African-American comedian-mime-singer Bert Williams, 1874-1922, once said, "A black face, run-down shoes and elbow-out make-up give me a place to hide.… (see essay)

Travel & Culture/ Culturally Speaking
Road Trip: LA to Seattle part 2
…We just couldn't stop laughing as we each climbed into the baths completely immersing ourselves into this heavy and very dense mixture of volcanic ash, peat and mineral water. Calistoga has pure volcanic ash and mineralized hot springs water. Combining these two elements with Canadian peat makes the mud treatment as effective as possible and is designed for maximum heat penetration and buoyancy. While the volcanic ash cleanses and smooths the skin, the peat buoys you up and allows the mineral water's soothing heat to penetrate more deeply. And it sure did. (see essay)
…Charles Blackwell, a dapper, genial black stage manager, had worked with Ailey in the 1957 Broadway musical "Jamaica." It had become clear to him that this new, charismatic young modern-dance choreographer was destined for great things after a much talked-about first New York program presented in 1958. …With one exception, the city's rehearsal places did not welcome black dance artists. And that exception offered only studios, though they were cleaner and more spacious than most. (see essay)
…For myself, as Editor and writer, it's all of a piece…and I do appreciate the 'back and forth' that sometimes takes place between me and my readers. So, receiving feedback on my Editorials, Reviews, and/or Profiles is appreciated (much better than not being read at all) since almost always I am getting information and insight into my (or my readers') opinions. A positive response is, of course, preferred, but one has to admit that negative criticism can often be enlightening — a misguided notion or opinion, no matter how eloquently expressed, is surely better 'outed' than praised or promoted. ..… (see essay)
… As with all things social media: the more engaged, the better the community. The more you give, the more you typically get back. Share resources, pick each other's brains and give and receive feedback on current works-in-progress. Organize exhibitions or in-person meetings (in a safe and secure location), purchase work and support fellow artists. Prompt conversations about supplies, local exhibitions, famous works of art, processes, practices and techniques. Whatever it is you choose to discuss, make sure you "get social." Isn't that what "social" media is all about? (see essay)