Teachers of the Art Students League of New York:
Daniel Greene, Burton Silverman, & Sharon Sprung at Gallery Henoch

By RAYMOND J. STEINER
Art Times October 2005
SHORTLY AFTER WE began publishing ART TIMES, perhaps around twenty years ago, I was having dinner with the painter Jack Levine at a small restaurant in Greenwich Village. During the course of the evening, I confided to him my doubts about surviving for very long on the current artscene because of our conservative view. "Hang in there," Jack said. "With the way the artworld goes, you keep on covering representational artists and some day you'll be in the vanguard!" Well, we continued keeping to our long view on art, and though we may not be in any vanguard position, we have endured.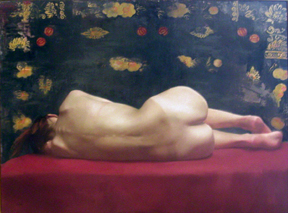 "M Nude" (oil on Panel) 36" x 46" by Sharon Sprung
So it seems has Gallery Henoch which has also persevered in its dedication to featuring only the best of representational artists, the present show of Daniel Greene, Burton Silverman, and Sharon Sprung* only the latest in a long history of quality exhibitions. All three, in fact, have had an extended association with the gallery, Sprung since 1982, Greene since 1996, and Silverman since 2001 — so 'vanguardism' aside, it seems that academic realism is here to stay and, in view that Sprung was a student of Greene's, that the tradition is still being handed down.
And a good thing that is, as "Teachers of the Art Students League of New York" so handsomely illustrates. By any standards, these three representatives of the League are masters of the realist genre. Sprung's female nudes are extraordinary, their soft flesh tones so close to living flesh that they not only invite the eye, but also the touch of the hand. Even when not depicting the nude, but in the simple head-on representation of a female, Sprung attains a verisimilitude that few portrait artists of today can match. If the figure seems to be her forte, she is less convincing in her cityscapes — though obviously competently handled, I found her "Viaduct", "Commuter Line", and "Smith & 9th" somewhat sterile, airless vistas that breathe less of life and more of a surreal dreamscape that invites no entry. As for landscape, her single example, "Thistle", densely rendered in a sea of green, allows for no general judgment.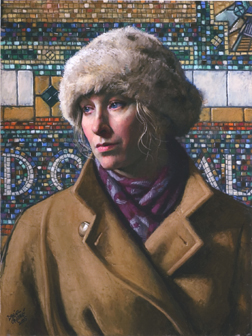 "Jean-Grand Central"
Pastel on Granular Paper 24" x 18" by Daniel Greene
Daniel Greene, recently dubbed a "superstar" (a term once reserved for avant-garde abstractionists who 'made it big' in the art market) by Paul Soderberg in Plein Air Magazine, has long been known and admired for his "subway series", a precisely rendered chronicling of New York City's subway system. Though rightly lauded for the series (those included in this exhibit are "Franklin St. Station II", "Wall St.-William St. Exit", and "Wall St. Platform"), Greene also gives us a taste of his range in such paintings as "Cat's Cradle & Gameboards", "Antique Star Gameboard", "Blue & Orange Antique Gameboard w/Orchids", and "Black, Red, & Orchids", all examples of the still life, and all showing evidence of his meticulous attention to details of texture, form, and color. Among his strongest paintings is "Jean—Grand Central", an extremely effective composition showcasing his facility with the painting the human face in conjunction with his signature subway series. "Jean", caught in a somewhat distracted and pensive mood, is tenderly captured in all her beauty. (Less successful, to my eyes, was the figure included in "Wall St. Platform", which appears to be almost "painted" on the tiled wall rather than standing in front of it.) Though I am familiar with Greene's French land- and townscapes, there are none in the show for comment — and that, perhaps, is unfortunate since it would give us a more comprehensive overview of his expertise.
Burton Silverman is most fully represented, with a generous balance of works that gives the artist plenty of scope to display his facility in rendering objects, figures, and landscape. In this respect, Silverman "steals" the show in that we have the opportunity of seeing the full range of his skills in realistic painting. "Study in Black & White" (a particularly fine portrait study), "Beach Figure", "Hanging Out", and "Beach Chairs" are remarkable in their depiction of the human figure, all believable as "real" people, with "Chelsea Square" including the additional pleasure of his signature "trick" of viewing a group of people through a reflective plate-glass window that allows for an eerie "double exposure". Likewise, his companion pieces "Hiddenbrook Pond" and "Fishing Hiddenbrook Pond" reveal a sensitive appreciation for nature, both paintings especially fine examples of the landscape genre. Almost all of the paintings give evidence of his equal facility to render objects (largely a characteristic of the still-life), with architecture, musical instruments, furniture, and the like, serving as prime examples.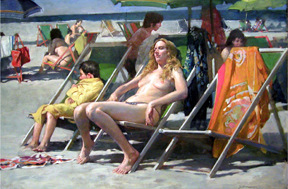 "Beach Chairs" (oil on Canvas) 37"x55" by Burton Silverman
Mounted to celebrate the Art Students League's 130th Anniversary, this exhibit not only pays homage to one of New York City's prestigious art schools, but also to the long tradition of representational painting. Gallery Henoch could not have chosen three more outstanding painters.
*"Teachers of the Art Students League of New York: Daniel Greene, Burton Silverman, & Sharon Sprung" (thru Oct 8): Gallery Henoch, 555 West 25th St., NYC (917) 305-0003