Speak Out: Cuba 2018 ~Mural and Steet Photograpy Project
By Franc Palaia
arttimesjournal March 15, 2018
I left the frigid temperatures of the Hudson Valley in early January of 2018 to visit Cuba for the second time since 2013. It was a balmy 75 degrees and sunny every day in Havana as I was anxious to continue the photographic project I began five years ago of documenting Cuban murals and street art. I have been a muralist for 25 years, and I was curious to see what the Cuban artists are doing on the streets, both legally and illegally. I arrived in Havana in February of 2013, several months before President Obama's landmark speech of December 17, 2014 where he opened the door to Cuba ever so slightly. December 17th became an instant national holiday. I expected and was almost hoping that Cuba would not look TOO slick and new. It doesn't, but there were noticeable changes.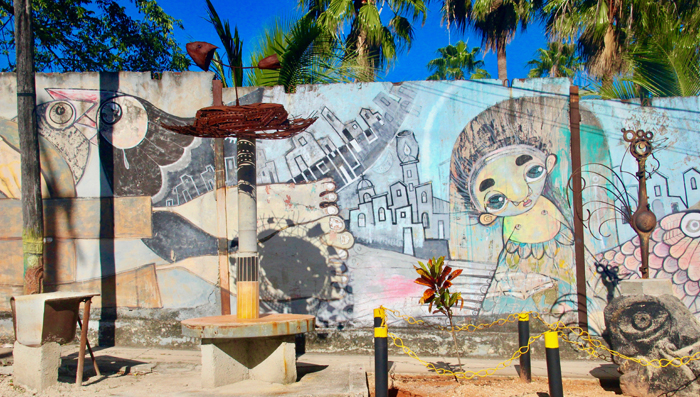 For ten days I traveled with a group of 16 Americans on an educational excursion organized by the Center for Global Justice. The sojourn was tailor-made for me since it focused on art and music. We visited museums, galleries, artists' and dance studios, schools, musicians, cooperative organizations, and attended concerts and community performances. My first impressions were that Cuba looked very much the same with its mostly dilapidated and decrepit structures, however, I did see many buildings being renovated. One very large commercial luxury hotel is being constructed just a block from the famous seashore boardwalk, the Malecon. The oversize scale of the hotel dwarfed everything in its vicinity, but the architecture was not wild or outstanding, so it blends into the cityscape. I went to the same places where I photographed interesting murals five years ago, and was disappointed that they were painted over. The walls had a fresh coat of Cuban blue or green. Pretty, but not very interesting. By covering up the street art, Havana has lost some of its character and soul. Believe me, I do want Cuba to improve and clean up its historic architecture, but the free spirit of street murals added a spunk that was desperately missing. In 2013, I photographed many elaborate murals painted in a variety of styles, including several giant photo murals by the well-known French street artist, JR, and many wall works by emerging Cuban- American artist Jose Parla, who appeared in the recent International Havana Art Bienial. I did notice the quality of the murals on this trip was below the last one. It's as if the architectural renovations have stunted free-lance street creativity.
Many things were the same, such as the crowded bustling streets, choking car and truck fumes, hollow collapsing buildings, but there are some signs of progress. The majestic Capitolio dome is being renovated, (it is modeled after the US Capitol dome), the grand hotels have been power-washed to their original early 19th century glory, the classic American 1950s and 60s cars are polished and in full force taking the hordes of tourists on sightseeing tours of historic Havana. Some other differences were numerous gourmet restaurants or paladars, small neighborhood restaurants that pop up in surprising unexpected places. They are all hip, chic and as contemporary as many NYC eateries. These did not exist in 2013. These restaurants are a blossoming force of newly encouraged entrepreneurship.
| | |
| --- | --- |
| | |
Overall, it was a gratifying trip and I left Cuba with guarded optimism. I documented about one hundred murals, and experienced life in an up- and- coming country, late to the party but picking up speed with the Cuban people optimistic, ambitious, hard-working, gracious and true to their cause.