Thanks for being a fan of ART TIMES Journal as we are now Green & Global.
~•~ We would Love it! if you engage, share, follow and like at: Facebook, Twitter, Instagram, Cornelia's Blog, Raymond's Blog
~•~ Please pass this request along to your social media "friends" and if appropriate print out the attached and place wherever you think it would be welcomed. If you want me to mail you copies I'll be pleased to do that.
Text to post: (perhaps your own comments and then)
ART TIMES (est. 1984) continues publishing online at www.arttimesjournal.com updating frequently with new essays, short fiction, videos, blogs, calendar & opportunity listings and more. As is said in the Social Media world— They would Love it! if you engage, share, follow and like at:
Twitter
Facebook
Instagram
Cornelia's Blog
Raymond's Blog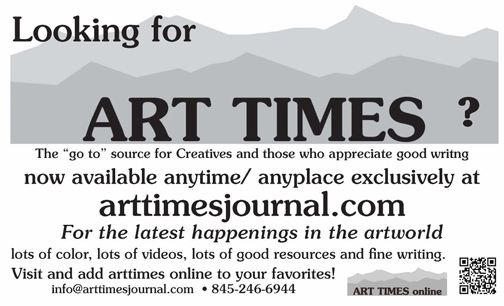 ~•~ Add a link to your site
ART TIMES link:
http://www.arttimesjournal.com
ART TIMES Journal is one of those arts magazines that has two distinct personalities. Afte 32 years in print it is now exclusively available online. ART TIMES is a vibrant sitel with art essays about painting, sculpting, drawing, film, theater, dance, music, book reviews, poetry, short fiction. Our writers are passionate about their subjects and guest writers from around the world contribute poetry, short fiction and their thoughts to our "Speak Out" column. The second personality trait is that ART TIMES is the go-to source for writers, painters, sculptors, film makers, actors, musicians and people looking for calendar listings, opportunity listings, arts schools, theatre auditions, juried art shows, performance locations, and writing competitions. Over the past 33 years that we have been publishing, numerous individuals have thanked us for leading them to galleries where their work is shown, companies who have produced their music and plays as well as to competitions where they have won awards and acclaim.