Theater: The Oldish Woman and the Show
By Wendy Caster
arttimesjournal November 16, 2017
Many years ago, I had the magical experience of being there when my nephew Charlie, who was around six years old at the time, saw his first musical. It was Titanic, and he already knew the CD by heart. To say that he was rapt does not begin to describe his 100% concentration. We were in the last row, and at one point he leaned forward so far that he slipped off his seat. In contrast to the noisy high schoolers in front of us, he was a perfect audience member. In fact, he said only one thing: after a particular song, he leaned toward his mom and said, quietly and joyfully, "That was number 10." Yes, he knew the numbers of all the songs on the CD.
Charlie was completely in awe of every second, as I was when I saw my first show (The King and I with Constance Towers and Michael Kermoyan). Can anything match the experience of seeing one's first show? No!
But nothing can match the experience of being completely blown away by one's 1300th show either.
It's tougher to blow me away these days. After all, what could be new after nearly five decades of theatre-going? However, when I am delighted or surprised, whether by a plot turn or an acting decision or genuinely original writing, I appreciate it all the more. Before I saw Hamilton, I was unsure that theatrical rap would work for me. And then, when I saw it, I found myself skipping inside from sheer joy. Did I appreciate Hamilton more than the young people for whom theatre is new? No. But I did appreciate it differently. To both them and me, Hamilton is one of the best things we have ever seen. To me, however, it's one of the best things of over 1,300!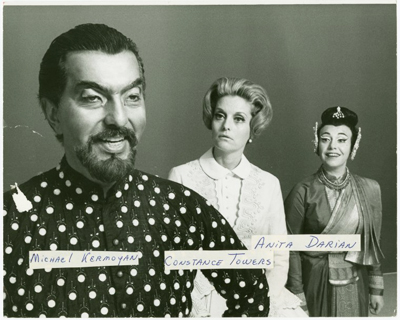 Some things haven't changed. I'm still in awe at the miracle of good theatre. It can still make me feel hopeful when the world seems to be imploding. The idea of dozens of people working toward one goal, getting past fears and assumptions and disagreements to create a show is inspiring. Art—particularly collaborative art—is some of the best that humanity has to offer.
And I'm still in awe of the talent, insight, compassion, and flat-out brilliance that distinguishes the best of theater performers and creators.
When I first started going to the theatre, it seemed that I had gotten there too late and missed the really, really great shows. The Golden Age was past, I was told. It was even worse for ballet, where yesterday's dancers seemed to always be the better and truer dancers. For that matter, yesterday's New York City was the real New York City, I was told (by many people!).
Well, I don't see that much ballet any more. And, yesterday's New York City was better, before all the chain stores and insane rents. But having my 1,300-show perspective on theatre, I would have to say that today is a Golden Age. Yes, prices are insane, but there are discounts to be had, and the price of a movie ticket and popcorn can get you brilliance Off-Off-Broadway. The creativity is never-ending.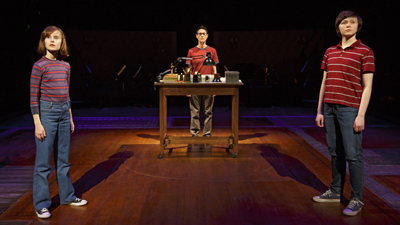 And in this Golden Age, we have works written, directed, and/or acted by incredible women, people of color, and LGBTQ folk. Fun Home could only exist in this Golden Age. Hamilton could only exist in this Golden Age. The Flux Theatre Ensemble could only exist in this Golden Age. The playwrights Annie Baker, Nilo Cruz, Harvey Fierstein, David Henry Hwang, Lisa Kron, Lin-Manuel Miranda, Lynn Nottage, Robert O'Hara, Suzan-Lori Parks, and Sarah Ruhl could only have their careers in this Golden Age. (By the way, work by these writers is done all over the country. It may also be a Golden Age of regional theatres. And it's likely that many of your local writers, directors, and actors are wonderful too.)
I'm not saying that theatre has achieved parity, but many, many more voices are heard today, and they enrich theatre deeply. In fact, I'd like to officially rename the Golden Age of the 1940s through 1960s as the Golden Age of White Guys in Theatre. This age is on its way to being the Golden Age of Everyone in Theatre.
And I appreciate it even more because my age and experience let me understand just how special it is.
( Wendy Caster is an award-winning writer living in New York City. Her reviews appear regularly on the blog Show Showdown. Her short plays You Look Just Like Him and The Morning After were performed as part of Estrogenius festivals. Her published works include short stories, essays, and one book. )