Art Essay: What's the Big Deal About Plain Air Painting?
By M. Stephen Doherty
arttimesjournal July 26, 2017
Why are there suddenly so many plain air festivals, paint-outs, workshops, blogs, Facebook communities, and publications? Haven't artists been painting outdoors forever, especially since the French and American Impressionists made a big deal of it?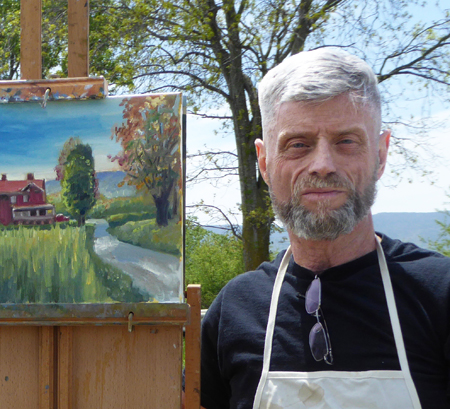 The fact is that within the past 15 years there has been a dramatic increase in outdoor painting, in part because it appeals to artists who love hiking, camping, and painting directly from nature; and in part because events serve the promotional and financial interests of galleries, arts organizations, tourist boards, and sociable artists. Enthusiasm for outdoor painting has grown substantially during that time period as evidenced by the number plain air painters, organized events, artists' societies, museum and artist websites, informational and educational blogs, and online communities. I report on this growth, and the process of creating plain air paintings, in my new book, The Art of Plain Air Painting: An Essential Guide to Materials, Concepts, and Techniques for Painting Outdoors (The Monacelli Press, New York, NY).
Outdoor painting appeals to artists because it presents a challenge to understand and synthesize observations, but it also taps into their need to be active and engaged in the open air. Many people are involved in plain air events and organizations because those offer a means to combining one's love of art with a lifelong interest in outdoor activities. The artists feel a great sense of fulfillment being engaged in an enterprise that is both physical and creative.
Nature is richer and more varied than any of us can imagine, and it changes appearance in an instant -- especially over the course of a day, a week, or a year. Plain air painting offers an effective way of dealing with all those variables and unexpected delights so they can be used to create works of art. While photography freezes nature's appearance and thereby limits the amount of information, plain air challenges the artist to consider every possible arrangement of shapes, pattern of lights and darks, and momentary alignment gathering. Outdoor painting is at once totally confusing and harmoniously expressive.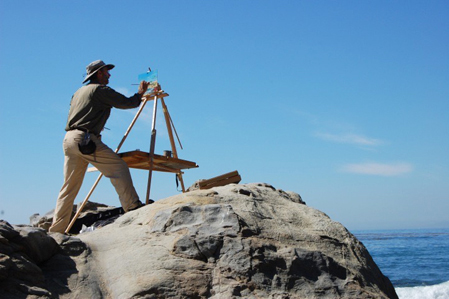 The most common type of plain air festival is one in which the organizers put out a call for applications, artists submit digital images through an online jury system, and an outside person(s) selecting artists up to the number that can be accommodated. There is almost always a fee to apply, and it is normal for an artist to submit digital photographs of three paintings. Most artists submit their best plain air paintings, especially those that have won awards in previous events; but some make sure to enter paintings that catch a juror's eye and are easy to understand and appreciate in a split second.
When time is limited by the rules of a quick draw competition or by the disappearing light at dusk, artists tend to paint on smaller panels and quickly block in the important pattern of light and shadows. It helps to identify a good location in advance of event, perhaps even checking out locations a day or two before after the sun has set so the artist will know where the interior and exterior lights might work well in a nocturne.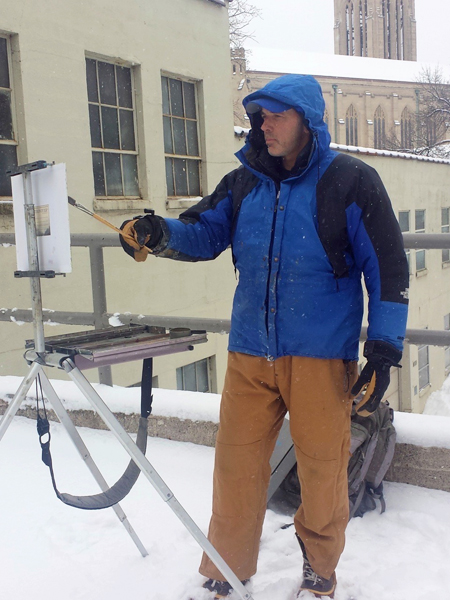 The staff of Plain Air Easton conducted research to determine who spends $3,000 or more buying paintings during their annual event, and the results surprised many people. Instead of identifying people at the very top of the economic scale, it highlighted people of average income who were as interested in learning how to paint on location as they were in building a collection of plain air paintings. In particular, men and women who knew the exact date of their retirement used the event in Maryland to explore the idea of becoming visual artists after they concluded their professional careers. The festival provided the perfect opportunity to see paintings develop from start to finish, ask questions about the decisions made by the artist, and buy the paintings that could remind them of the lessons offered by the painter.
The harsh reality of competitive plain air events is that the applications of many top artists are routinely rejected by jurors because of the number of applicants. Only about 25% to 33% of the paintings created will actually sell, and three or four of the artists will generate a disproportionately high percentage of total sales and revenue. The reality is that only 5% to 20% of the artists win awards. That means it is likely that even the most talented and accomplished artist can expect rejections, poor sales, and no awards.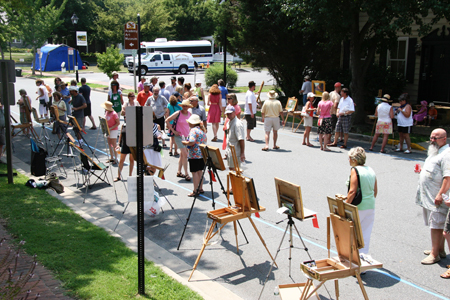 Despite all these drawbacks, hundreds of artists still pay entry fees and hope for acceptance into plein air festivals. But is it wise for them to continue determining if plein air festivals a short-term are a means to a long-range goal? Most of the top artists stop participating in plein air festivals after a few years of competing because the prices of their plein air paintings are now well above the average, and because they have established a reputation and a following they can take with them to galleries that will exhibit their paintings on a regular basis.
Like many popular activities, the enthusiasm for plein air events may fade over time, especially since most depend on a crew of volunteers and a large number of collectors. However, outdoor painting will certainly continue because artists will always find value in painting directly from nature and collectors value the fresh, immediate, and momentary qualities of plein air paintings.
Stephen Doherty has edited art magazines for nearly 40 years, most recently PleinAir magazine. He graduated Phi Beta Kappa from Knox College and earned an MFA from Cornell University, and he is the author of The Art of Plein Air Painting: An Essential Guide to Materials, Concepts, and Techniques for Painting Outdoors (The Monacelli Press, New York, NY)