Art Review: Thoughts on Clashing Cultures
By Henry Cavanagh
arttimesjournal December 10, 2017
This past month was spent visiting friends in Europe, with some trepidation, given the unsettled refugee situation. Of course, I was concerned over the culture clash upsetting cherished apple carts.
Quite by accident we were near Bonn where a remarkable show was about to open. So remarkable and long awaited, we couldn't even get tickets, and pressed on through France to friends in Italy for some of that culture.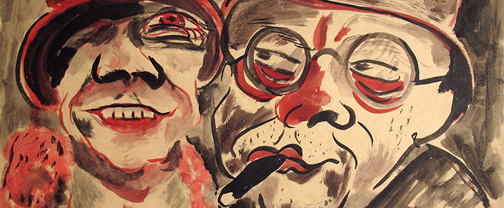 Later, back in Germany, our German friends had secured tickets, and off we went. The show was titled more or less ''Gurlitt: Status Report: Nazi art theft and its consequences''. These were some 150 or so artworks of the 1,500 famously discovered in 2012 in the Munich apartment of Cornelius Gurlitt, the son of Hildebrandt Gurlitt, "Hitler's art dealer''. Another 200 are simultaneously showing in a gallery in Switzerland, of the estimated 20,000 looted and missing artworks from private collections and museums all over Europe. The collection contains classical works from all periods, from Durer to Rodin; and most awaited, ''DEGENERATE'' works from the early 20th century, extorted or taken from art dealers of the period, private collections, or the artists themselves. In some cases, more found than had previously been known. Another culture clash from another time.
Gurlitt had been living off the piecemeal sale of the works for 70 years, and was only accidentally found out. The as yet unseen collection had been fought over by Gurlitt heirs and possible former owners for years. Meanwhile, before he recently died, Gurlitt bequeathed the collection to the two museums, which have been laboring almost in secret to find the owners and restore pieces to the legitimate heirs, and to authenticate and clean the lot. This showing of the restoration project results thus far, is being exposed to the public as part of the search for the original owners, or people who may remember having seen the work years ago.
The 'Hitler Period' as most Germans call it, was a kind of cultural revolution to purify and return German culture, and wrest it from the grip of perceived alien ....Jewish...influences. Art deemed 'degenerate' might be made or owned by a Jew, or be too 'modern' for Nazi tastes. It's public viewing was prohibited, and like books, likely candidates for destruction.
Unlike today's Germany, it is well known here that the Nazi racist policies included film makers, artists, professionals, teachers, writers, scientists, musicians and other blameless, talented Jews who were squeezed out of the country with only their shirts on their backs. Their works were symbolically destroyed and millions of others killed. These shows do not attempt to soften the verdict of history and implicitly, the burden Germany has still to bear. For many, this is new and troubling information.
Ironically, the flight of artists to the four corners of the world made German Expressionism influential, defining the arts for most of this century. The 'degenerate' works here represent an endless list of names every cultured person knows: Kirchner, Chagall, Kollwitz, Klee, Picasso, Renoir, Matisse. Most have not been seen publicly for nearly 100 years. Some never have. The contents and importance of these works will take time to digest, and will change how art history will be taught for the rest of this century. Most likely, the collection in some form will wend its way to the U.S.A. where it will cause a sensation among a select audience, and the general public, too, for the story it has to tell for our moment. A story about the values of societies, the influences of art on a culture, and the place of ''aliens'' and tolerance in a society like 1930's Germany, wanting to be 'great' again.
The friend I was visiting is a bronze sculptor with town fountains, church and hospital statues sprinkled all over the Rhineland. Now and then he is asked to produce plaques to be mounted on various prominent surviving buildings formerly owned by Jewish families. Other plaques mark local places where 'transports to the East' were assembled. Bronze blocks fitted among the cobblestones of a village street, identify the names of the building owner and extermination camp they were sent to. In Germany, history never ends, and memory or research forever is floating up more details. More reminders. November 11th is Memorial day in Germany, supposedly marking the end of WWl in 1918. For this 100th anniversary, the mayor of the town, Erkelenz, and other worthies, read off the names of the 1,000 or so local Jews once collected there, never to be seen again.
The same was done in every local high school. I don't know about other regions. Lots of Germans think this is over the top. There is even a new Nazi party. Most, however have taken responsibility for the past; taken the slogan 'Never again' to heart, and keep in mind the tragic consequences of a vicious, racist, nationalistic government.
History changes but slowly, and there is always something to be learned from a rich and well-mounted show such as this. Meanwhile, the conservators toil away.......and the lawyers, hopefully preparing the way for a U.S. opening someday.
I can't wait!