Dance: You Are Here at Lincoln Center
By Dawn Lille
arttimesjournal August 28, 2021
A long year and a half for dance preceded the live interactive performance piece You Are Here at Lincoln Center. During that time there were endless dance works filmed in living rooms, kitchens and closets, often created by dancers who had never thought of themselves as choreographers, but alone in their private domains, pursued their art. Dances were created online and then performed simultaneously via computers, iphones, and ipads, one of the first coming from Mark Morris. Dozens of classes in every possible genre were offered online, some free. Many companies shared archival films, some of the best coming from the New York Theatre Ballet. Some commissioned works created in a covid- safe "bubble," to be danced and filmed outdoors. The Ailey company created the most interesting, especially the filmed dance by company choreographer Jamal Roberts.
There was much mutual support and open- minded willingness to look at and participate in the work others were creating online. This was a different time for dancers accustomed to keeping their human instruments in tune, usually within a community setting, and presenting their works before a live audience. Only in the future will we really know the results of this pandemic, personally and artistically. It did make dancers and dance makers look at themselves and the possibilities of their art differently, and their audiences yearn for live performances.
You Are Here was the result of an idea of Andrea Miller, artistic director of the Gallim Dance Company. She was rehearsing a work commissioned by the New York City Ballet for their outdoor visual performance when one of Lincoln Center's security guards came by and started moving eloquently to the music. Miller thought of all the other non-performing staffers, the supporters behind a final performance. Her concept was accepted and produced by a seven member creative team consisting of Lynsey Peisinger, the co-director with Miller, Justin Hicks, composer and sound artist, Mimi Lien, production designer, Oana Botez, costume designer, and Iyvon E, dramaturg.
The result was a sculpture, sound and performance installation placed around the reflecting pool at Lincoln Center. This was a small community undertaking that was free to the larger New York City community and the beginning of Lincoln Center's renewed performances for live audiences. The team wished to showcase the many unseen individuals and groups behind every live performance and to demonstrate to a "starved" audience that art could make them feel alive or "here" again. The sculptures – figures with imbedded sound systems that played soundscapes and personal stories told by different staff members from the surrounding campus, were placed around the pool and were available for viewing July 14-31. They were armature/bodies – torso, arms, legs, no head – dressed in colorfully patterned jackets and pants, decorated with flowers, each in a pose reflecting or invoking a different movement. The songs and stories by non performers were amazingly varied. One was about a terrible automobile accident the narrator had experienced. The viewer created a personal path and time sequence while sojourning from figure to figure and was free to skip one or return to another.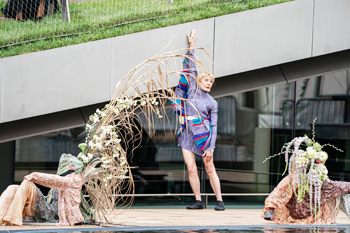 The dance and movement element was added the last week when ten Gallim dancers, in a piece choreographed by Miller, appeared in and around the pool, with a different few of the twenty five community "portraits" joining each night. Miller's choreography did not really have a solid form or structure. There is only so much one can do in water, shallow or otherwise. They entered and exited the pool singularly or in pairs with a slow formal walk on bent knees or with one leg raised at a right angle. This alternated with a side step and dancers coming and going at different times. Once in the pool there were duets, trios, solos, a few lifts and some group movements holding hands, plus some playful splashing. The most expressive movements were a slow expansion of the chest and arching of the back with arms outstretched and a sustained elongation of the torso begun by the head, which then led the body into a spiral. These movements seemed to say, "My body is rediscovering itself and reaching out to the audience it needs."
But this was not meant to be a performance that concentrated on the choreography. It was a mixed media project and the "portraits" that were interspersed each night made it mixed theater. The one I attended included a spoken movement solo by the security guard, as well as one by an intensive care nurse who jogged around the pool in between talking about her experiences treating Covid, a dialogue between two women seated in the pool about the Lenape nation and the land stolen from it and a monologue about a Mexican -American family, also delivered from the water.
This was an event meant to celebrate the varied community of artists and all those who support their work and allow it to exist, and to bring the celebration anew to an audience that has been without live theater. It was a welcome back to being "here."
dawnlille@aol.com