Film: The Red Carpet After Party
"a kid In a candy store"
By Keith Nieto
arttimesjournal October 30, 2017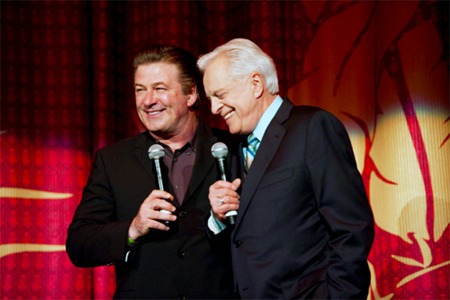 Alec Baldwin and Robert Osborne at the inaugural
TCM Festival
Many apologies for my absence from this column. Let's just say business at Keith's Classic Film Retreat (Airbndb) has been good. Does that sound like a shameless plug? Well, maybe it is. "Shy and retiring" has never been my strong suit. I did, in my previous column, promise to share stories of the first TCM Film Festival's Red Carpet After Party (2010).
As I was going to travel across the United States by rail and be part of TCM's inaugural festival, I would purchase "the big ticket" - a ticket that included entrance to Vanity Fair's Red Carpet After Party, celebrating the Blu-Ray release of "A Star Is Born" (1954) starring a little lady known as Judy Garland.
Entering Grauman's Chinese Theater, guests were greeted by a half dozen of Miss Garland's, lovely costumes worn in the film. There was something magical about the faded 1920s grandeur of the iconic theater - a prime example of what became known as a "movie palace", where one cannot not help but feel like royalty.
So...onto the "candy store":
After watching the glorious remastered copy of the film on the big screen, we were swept off to an old Hollywood nightclub. There was an electrical charge in the air that evening. Or was it the open bar? The vast open balcony room was perfect for stargazing. Banquettes and open tables allowed guests the freedom to mingle with new and old Hollywood. My new friend and partner-in-crime, Jennifer, believed we should think of the event as a candy store. Meeting and greeting as many stars as time would allow. Jennifer, in a stunning black and white cocktail dress, and me in a slim tailored tuxedo, appeared both friendly and formidable. The liquor was flowing with an impressive array of pre-made cocktails. The bartenders could not make them fast enough.
Our first star approach was Alec Baldwin. We introduced ourselves. In a gentlemanly manner, he rose to shake our hands, then told us rather briskly, "Love to talk with you, but I gotta take a piss". He was not being rude, just desperate to find relief.
We scanned the room and espied the "Garland table". To celebrate their mother's special evening, the children of Judy Garland - Lorna and Joey Luft with Miss Margaret O'Brien, decked out in her finery, were seated together. It seems I had misplaced my partner, Jennifer, and there was an empty chair at the hallowed table. Open bars make for brave individuals, so I asked if I might join them. Miss O'Brien's date, Randy Malone slid the chair out and said "join us!". They were thoroughly delightful. I tried to calm the voices in my head, reminding me that I was among Judy Garland's children and one of her favorite co-stars.
Margaret O'Brien could not have been more kind, introducing me to everyone at the table and sharing with me what a wonderful time she had with Judy Garland during their days at MGM. Lorna and Joey Luft listened wistfully as Margaret told me what a beautiful mother Judy was to her children. We talked about the business and new projects everyone at the table was involved in. They could not have made me feel more welcome. This was an encounter I would not, and could not, soon forget.
There were more Hollywood legends to embrace. I'm not proud of my next move but -as we are friends - I'll share. At a banquette, all by her lonesome, sat Cher. A perfect opportunity has arisen to say hello, introduce myself and perhaps sit with her for a spell. What did I do? Being a little star-struck and having made several trips to the open bar - I put my hand to my ear indicating a phone, and signaled her to call me. She looked at me blankly. I curse myself about this foolish gesture to this very day. Missing a sit-down with La Cher! It was time I cleared my head, and remind myself that, like Cinderella, this party won't last forever.
Next stop, Oscar-winner Eva Marie Saint. As we chatted, I told her she was one of my favorite Hitchcock blondes. She whispered in my ear in a rather sexy tone, "Don't say that too loud. There are other Hitchcock blondes in the room!"
And there certainly was. Tippi Hedren and Kim Novak. I couldn't help but tell the stunning Miss Hedren that I thought she was one of Hollywood's most beautiful blondes. Not original, but she accepted the compliment with delight, like a teenaged gal.
Now over there to the left was the glorious Jacqueline Bisset, seated with a gentleman in a banquette that could easily seat six, so I joined them. This was my chance to tell Miss Bisset how I loved her character portrayal in "Latter Days", the story of a gay-friendly restaurateur who becomes a second mom to Mormon children abandoned by their family. When we talked about the moving Thanksgiving scene in the film, she told me I should join her for one of her Thanksgiving dinners. They were special, she said. Looking into her beautiful eyes, I believed her. A glorious woman. I may take her up on that invitation someday.
I experienced numerous introductions and warm hellos with Anjelica Huston, Danny Huston, Stephanie Powers, Ann Rutherford, and Hugh Hefner among others. All of us participants celebrating Judy Garland's eternal star. This star-struck kid from Brooklyn felt both welcomed and embraced by a community of actors whose work I had followed for decades. Better than any candy store.
The evening's last visit had me squatting down next to Diane Baker and the venerable Mr. Robert Osborne, himself. There were no chairs available, yet I was made welcome at their crowded table. Everyone paid court to Osborne, "Mr. TCM". I was introduced to all the celebrities who were sharing with Mr. Osborne how they felt about the wonderful evening they had.
I revealed to the still beautiful Miss Baker that it was my birthday that evening. She grabbed my hand and held onto it for the next fifteen minutes (which helped me keep my balance in that squatting position). We spoke warmly with one another, for all that time, about dreams and aspirations, and that she was teaching her craft in San Francisco. Her warmth was so infectious it was as though we had known each other for years. As I unlocked myself from my position, she kissed my hand and wished me a happy birthday.
There was an extraordinarily warm sense of community throughout the room that evening. To mingle with old and new Hollywood, and introduce myself to actors whom I had admired for years, had me glowing with this unique privilege. What a birthday! Seven years ago, but hard to top! But I'm game if you are!
My motto - "A classic movie a day keeps the doctor away."
Cheers, Keith Nieto